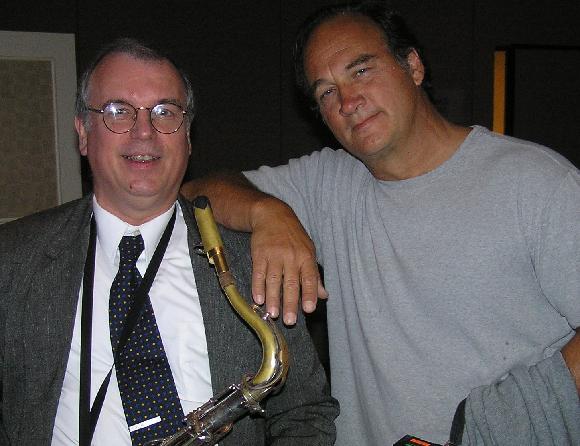 Mike Trombetta at the Marriott Marquis in Times Square, New York with Jim Belushi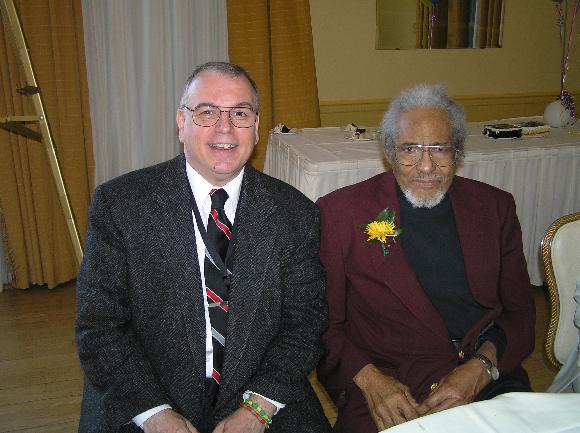 Mike with Dr. Edward Loper, Sr. celebrating his 93rd birthday!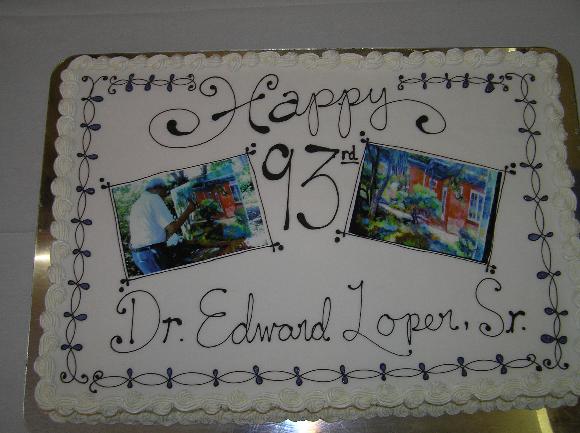 ...a good time was had by all.
As a soloist:
Mike Trombetta performs on saxophone, flute, clarinet, and vocals accompanied by his computerized digital trio of piano, bass and drums. The repertoire is comprised of sophisticated standards and swing tunes on sax, dixieland songs of the south on clarinet, latin specialties on flute along with a variety of vocals.

Mike has performed with: Dorothy Donegan, Johnny Coles, Barbara McNair, Allan Jones, Enzo Stuarti, Bobby Rydell, Mary Wilson, Frankie Fanelli, Clint Holmes, The Temptations, Sam Butera, Lin Biviano, The Stylistics, The Coasters, The Lettermen, Bill Haley's Comets, Franny Beecher, Beatlemania, The Soul Survivors, Teddy Panama's Ritmo Caliente and comics Morey Amsterdam, Jim Belushi, Phylliss Diller and Adam Keefe.

Scroll down for information about MIKE TROMBETTA'S METROPOLIS BIG BAND.
*** NEW ! ! ! *** SOUND CLIPS ! ! ! ***
Some brief samples...
Have you heard?
PEOPLE ARE TALKING ABOUT MIKE TROMBETTA:

"This is how music should be." - Hyatt Classic in Teaneck
"The music made the party." - Hallmark NYC
"Very well received." - DuPont Country Club
"I saw your show. I laughed. I cried. You were wonderful." - Project Find NYC
"You are an entertainer par excellence." - Sterling Glen of Rye Brook
"Superb." - Sterling Glen at Glen Cove
"Some people are saying you're the best entertainer we've had." -Dunwoody Village
"Thank you for not playing down to us." - Kittay House

Call Mike at Metropolis Music:
917-750-6599 in New York City
215-423-6043 in Philadelphia

Send email to mike@miketrombetta.com




The following is a partial song list of what you can expect to hear:
April In Paris

Pennies From Heaven


Love Is Here To Stay

Skylark

Moonglow

Begin The Beguine

Love For Sale

Get Out Of Town





Bye Bye Blackbird

Once In A While

April Showers


It Had To Be You

Always

Ev'rything I Love

When You Wish Upon A Star

I Concentrate On You





Invitation

Stardust

All Of Me

I'm Old Fashioned

Young At Heart

Autumn Nocturne


You're My Everything

Indian Summer






Mike Trombetta's Metropolis Big Band meanders the megalopolis from Boston to Baltimore by Buick.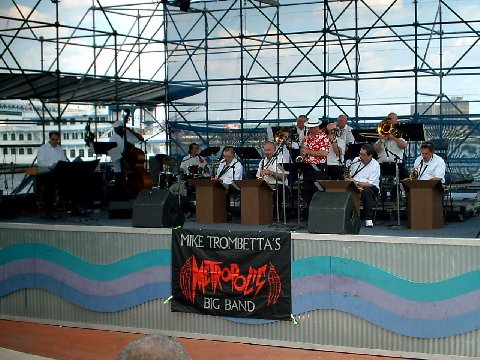 Penn's Landing in Philadelphia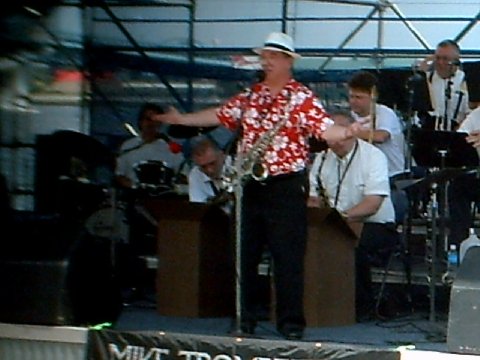 Mike credits Woody Herman for his big band interest.

When the Penn's Landing Corporation wants to throw a party to entertain the local community and international visitors to the historic city of Philadelphia, they call MIKE TROMBETTA'S METROPOLIS BIG BAND. For two hours on a sunny afternoon on the waterfront at Chestnut Street we served as ambassadors of music. Stay tuned!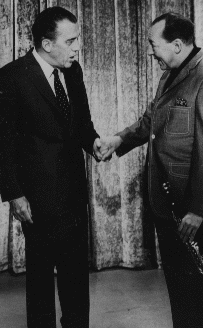 Ed Sullivan and Woody Herman
As a young boy, Mike Trombetta saw Woody Herman on television performing on the Ed Sullivan Show which influenced him to start a life of music. Mike Trombetta was born and raised in Philadelphia, PA where Woody recruited an abundance of talented saxophone players like Buddy Savitt, Bob Newman, Gregory Herbert, Stan Getz and Larry McKenna. Mike studied with Vince Trombetta (no relation), then with Larry McKenna, now the featured soloist with Mike Trombetta's Metropolis Big Band. At the advice of good friend, jazz saxophonist and woodwind expert Bob Malach, Mike sought out Bob Newman in the Poconos for lessons in the late 70's. In 1980, Bob Newman asked Mike to be his roommate in the new casino frontier of Atlantic City and their friendship continues to this day. Lately Mike has been fine-tuning his saxophone technique with George Young and vocal studies with Rod MacWherter.
| | | |
| --- | --- | --- |
| Mike Trombetta relaxing with Bob Newman 2007 in New York City | An early George Young souvenir matchbook from those Wildwood Days | Mike Trombetta at a voice lesson in Lancaster, PA with Rod MacWherter, Summer 2007 |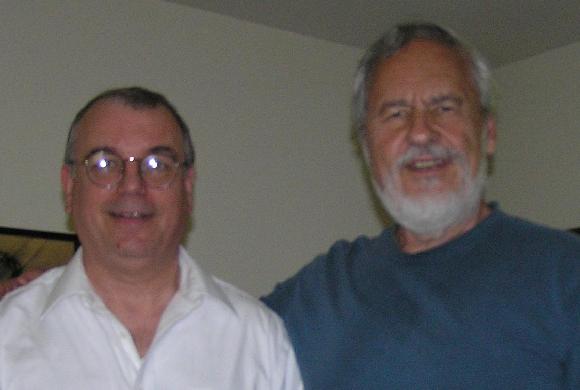 Mike Trombetta with Rod MacWherter at a voice lesson in Lancaster, PA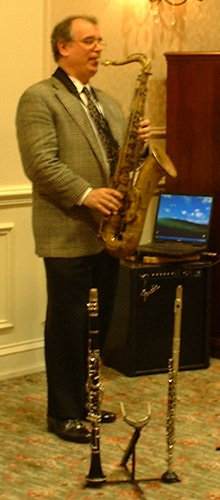 Mike performing in Manhattan
CLICK ON THE LETTERS BELOW FOR HIGHER RESOLUTION